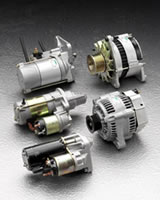 Auto Generators, a family business established in 1989 in Wakefield, West Yorkshire, offers value for money products and a personal service second to none. We are specialists in the remanufacture of alternators and starter motors for most British, European and Japanese vehicles.
By using top quality named parts such as Bosch, Valeo, Lucas, combined with a fully experienced work force, this guarantees a top quality end product. We offer the following: -
Part exchange
High quality remanufactured and new units
Competitively priced products
Same day service
Fitting service available
Our main suppliers are Holgar Christansen, Woodauto and Lucas.